Jeep Cherokee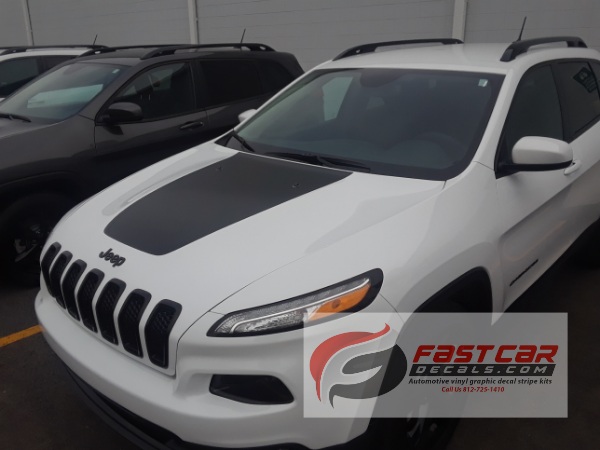 FastCarDecals.com is the number one website for high quality Jeep Cherokee Trailhawk style hood stripes at the lowest prices. If you have been surfing the web for the best Jeep Cherokee hood stripes, then you came to the right place, because Fast Car Decals have the best deal around for High Quality Cut to Fit Jeep Cherokee hood decals and quarter panel stripes for 2014 2015 2016 2017 2018 and 2019 Jeep Cherokee side decal stripe kit. Call Us 812-725-1410
We have been supplying Jeep Cherokee Limited and Latitude owners and dealerships with the best 2013-2019 Jeep Cherokee side graphics since 1988 and auto enthusiasts all around the country trust Fast Car Decals to produce the best Jeep Cherokee vinyl graphics decal kits for their cars.
We never skimp on quality at FastCarDecals.com. Every one of our top quality 2013-2019 Jeep Cherokee decal kits is precision cut from the same high grade vinyl that is used by professional stripe installers and Jeep dealerships. You won't find any cheap, low grade, sign quality vinyl at FastCarDecals.com, we only use the best quality Avery Supreme wrap pro-series vinyl and 3M High Performance Automotive Grade Vinyl in all our Jeep Cherokee stripe vinyl kits. That's why you can trust Fast car Decals to look great and to last you a lifetime.
Instantly transform the look of your 2014-2019 Jeep Cherokee with professional looking Cherokee from FastCarDecals.com. They are easy to fit and they can be fitted straight out the box. We use state-of-the-art precision cutting technology to ensure that every single one of the Jeep Cherokee factory OE style graphic racing stripe kits that we supply is cut perfectly and can be fitted with virtually no trimming at all.
If you want the Trailhawk factory OEM style look for your 2014-2019 Jeep Cherokee, then FastCarDecals.com Jeep Cherokee graphics and Jeep Cherokee stripes are the fastest, the easiest, and the cheapest way to achieve it. Place your order today for your Jeep Cherokee hood decals and, before you know it, you will be cruising around in the coolest looking Jeep Cherokee in town. We aim to ship all our orders within twenty four hours of them hitting our warehouse, so your top quality Jeep Cherokee stripes will be with you in no time at all.
Don't blow all that hard work you have put into your Dodge by wrecking it with cheap looking Jeep Cherokee, get the best Jeep Cherokee decals from FastCarDecals.com. We are a family owned business that is owned and managed by car enthusiasts, so we understand the importance getting the best vinyl stripes for your Jeep Cherokee. That's why we take so much care when make 2014-2019 Jeep Cherokee stripe vinyl graphics decal kits and that's why our vinyl strip kits are all guaranteed for 5 to 7 years.
Browse around our collection of 2014-2019 Jeep Cherokee vinyl decals and you will find an amazing range of Jeep Cherokee vinyl stripes, Jeep Cherokee and Cherokee racing stripe graphics kits, and decals for the spoiler, roof, hood too.
We are 100% committed to helping you find the best Jeep Cherokee stripes for your SUV. If you need any help at all, or if you have questions, just send us an email and one of our experienced customer service team will get back to you as soon as possible.
FastCarDecals.com is the best supplier of 2014-2019 Jeep Cherokee decals and Jeep Cherokee side stripes, so why wait any longer? Place your order today for the best Jeep Cherokee decals on the web and give your Jeep Cherokee a muscle SUV makeover you will be proud of.