Dodge Avenger Stripe Vinyl Graphics Decal Kits
If you own a Dodge Avenger 2009-2015 and you want the very best OEM Style Avenger vinyl stripe graphics and Avenger custom kits, then you're in luck; because you just found the best supplier of high quality Dodge Avenger vinyl decal kits around!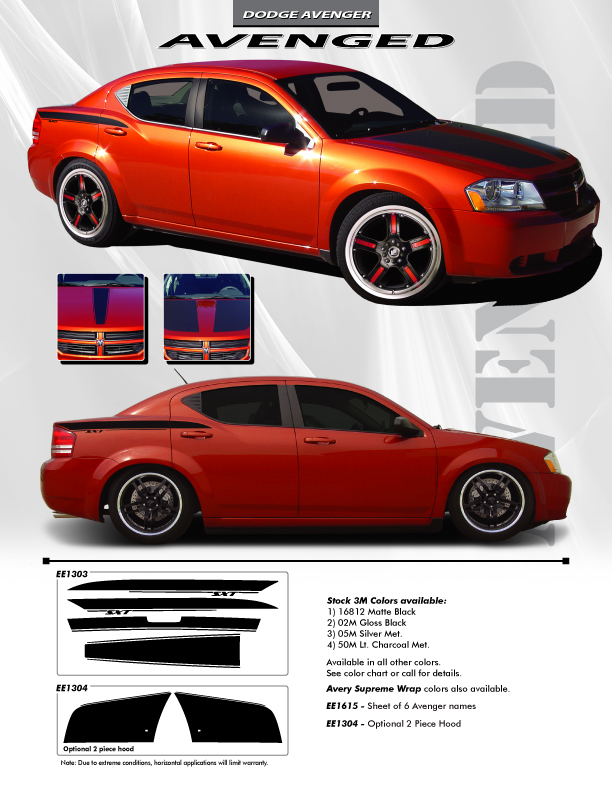 FastCarDecals.com is the premier supplier of Avenger decals that will give your Dodge Avenger OE style, at half the price. We have been manufacturing top quality Avenger stripe vinyl graphics decal kits since as far back as 1988 and, in that time, thousands of Dodge owners and other car owners have come to trust FastCarDecals.com to produce the very best quality vinyl decal stripes at the best possible prices.
Quality is a big deal for us here at Fast Car Decals; in fact, it's our number one priority. Each and every one of our Avenger vinyl graphics decal kits is thoroughly checked out for quality before it is shipped out to a customer. We don't use any cheap, low quality vinyl in or decal kits, we only use the best.
All our Dodge Avenger vinyl stripes and vinyl decal kits are made of exactly the same type of high quality vinyl that the big Dodge dealerships and the pro stripe installers use. That's why, when you buy Dodge decal kits from FastCarDecals.com, you can be 100% sure that the Avery Supreme wrap pro-series vinyl and 3M High Performance Automotive Grade Vinyl that we use in our Avenger decal kits is going to look great and it's going to last.
Your Avenger stripe vinyl graphics decal Kit will have been manufactured using our state-of-the-art, high precision technology that guarantees that you will get a hassle free installation experience with the barest minimum of trimming required. Our Vinyl decal kits will give your Dodge Avenger the classic OEM rally and racing style with the minimum effort, and at an affordable price.
We have a full range of Dodge Avenger vinyl decals available, including Dodge Avenger SXT and Avenger R/T graphic decals, and every one of our vinyl decal kits are covered by a 5 to 7 year guarantee.
Take a look around our amazing selection of Avenger vinyl stripes and decal kits. If you can't make up your mind or you need some help, just drop us an email and one of our highly experienced customer service experts will be on hand to help.
Why settle for second best, when you can get the very best at FastCarDecals.com? Transform your Dodge Avenger into a real head-turner with top quality Avenger stripe vinyl graphics decal kits from FastCarDecals.com. Place your order today and we will do our very best to get your new Dodge Avenger vinyl decals shipped out to you within just 24 hours.
Fast Car Decals vinyl stripe decals are the fastest and the cheapest way to give your Dodge Avenger the OEM style look, at half price. They are easy to fit and you can fit them straight out of the box, so place an order today and make your Dodge Avenger the best looking Avenger in town.