GMC Sierra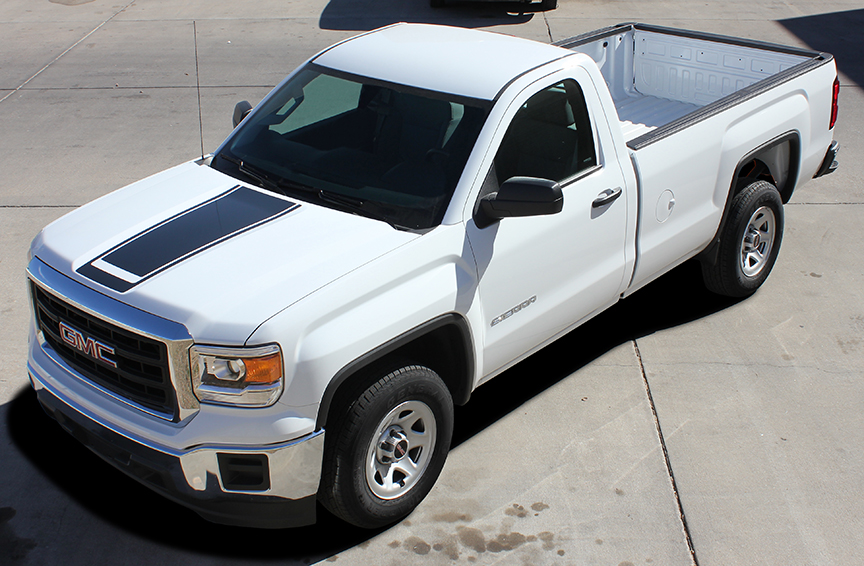 GMC Sierra Vinyl Graphics, Side Stripes, Hood Stripes and Rocker Panel Stripes kits. The GMC Sierra pickup truck has a long history of winning awards. With such a proud history behind it, don't you think that your GMC Sierra should have the best vinyl stripes and decals that you can find? If you do want the very best 2014 2015 2016 2017 and 2018 GMC Sierra stripe kits, GMC Sierra side stripes and GMC Sierra vinyl graphics, then you certainly came to the right place, because FastCarDecals.com are the top supplier of high quality vinyl stripes kits and vinyl decals for the GMC Sierra!
FastCarDecals.com is a family run business that has been supplying top quality vinyl stripes kits and vinyl decals for the GMC Sierra and most other popular types of trucks and cars since 1988 and, in all that time, our wholehearted commitment to quality and good old-fashioned customer service has never wavered. When you buy GMC Sierra vinyl graphics from us, you can be sure that you will receive Sierra custom stripes and vinyl decals that are the same high quality that you would expect to receive from a professional vinyl stripes installer or a GMC Sierra dealer. You don't, however, need to pay the same high price for your GMC Sierra stripes when you buy them from us!
Give your GMC Sierra pickup the best custom stripes upgrade on the market with top quality GMC Sierra vinyl graphics from FastCarDecals.com. It really is the easiest and the best way to make your GMC Sierra 1500 stand out from the crowd. If you place your order for your Ram pickup truck side stripes and GMC Sierra Truck vinyl graphics today, they could be with you tomorrow! We aim to ship out all the orders that we receive within just twenty-four hours. So, don't waste any more time. Order the best GMC Sierra stripe kits on the market today and, in no time at all, you will be the proud owner of the meanest looking GMC Sierra in town!
Just look at our Professional Grade collection of GMC Sierra SLT 1500 stripe kits that we have available for you here. We have GMC Sierra hood and accent stripes, GMC Sierra bed graphics, GMC Sierra Side Stripe Decals kits, GMC Sierra Rocker stripes, and many, many more. Every single GMC Sierra vinyl graphics kit that you will find at FastCarDecals.com is manufactured from the very highest quality vinyl and it is guaranteed to last.
Fast Car Decals GMC Sierra Truck side stripes and decals are the best that money can buy. All our vinyl stripes kits for the GMC Sierra and other trucks and cars are precision cut from the finest 3M or Avery Supreme Wrap high performance automotive grade vinyl to ensure that you get a perfect finish that will last and last. Our GMC Sierra vinyl graphics are manufactured to fit the body-lines of the GMC Sierra perfectly, so you will also get and stress-free installation with the minimum of trimming, every time.
The GMC Sierra is a classic American pickup that deserves the best, so don't be taken in by cheap imitation vinyl stripes. We never use low-grade sign-quality vinyl on any of our vinyl graphics and stripes kits, so you can be sure that your Fast Cars Decals GMC Sierra stripes won't fade and peel. In fact, we are so confident that your GMC Sierra Truck vinyl graphics will stay looking great for many years to come that we give a 5-7 year guarantee on all our Sierra vinyl decal kits. So long as you use your Sierra truck vinyl decals for the purpose for which they were intended, we will cover you for any defective material throughout the lifetime of the product guarantee. That's a promise!
Whether you choose GMC Sierra Racing Stripes bed side vinyl graphics, GMC Sierra Hood Decals or a GMC Sierra racing stripes decal kit, you are guaranteed to get the best deal at FastCarDecals.com. If you can't decide exactly which GMC Sierra stripe kit is going to lift your GMC Sierra to new heights of style, just give us a call. We have a team of automotive vinyl stripes experts on hand to help you pick the perfect vinyl decals for your GMC Sierra and they will be happy to answer any questions that you may have. It's all part of the service!
High quality racing stripes and vinyl decals for the GMC Sierra truck can lift the GMC Sierra to a whole new level. Whether you go for the full GMC Sierra sport look or the stunning looking GMC Sierra Midian decal graphics package, we are 100% confident that you love the new look of your newly upgraded GMC Sierra truck. Don't leave it too long to order your GMC Sierra stripe kit, because you won't find better quality GMC Sierra SL vinyl decal kits at these amazingly low prices anywhere else.
The GMC Sierra is a legendary American pickup that has the power and the reliability to keep on going when other pickups would just quit, so give your GMC Sierra custom makeover with GMC Sierra vinyl decals that are made to match the toughness of this classic hard-working truck.
To place your order for your GMC Sierra body stripe kits, GMC Sierra side stripes and GMC Sierra vinyl graphics, simply select your favorite vinyl stripes kit and then choose from the huge range of amazing colors that we have on offer. Our guys in the warehouse will then get straight onto picking, packing and shipping out your best quality GMC Sierra truck vinyl stripes just as fast as they can.
Don't delay; join the thousands of GMC Sierra pickup owners who have already upgraded their GMC Sierra with the best GMC Sierra truck stripe kits that money can buy! A Sierra vinyl stripes graphics kit from FastCarsDecals.com will give your GMC Sierra an OEM style face lift that is sure to impress.
Place your order today for your GMC Sierra truck side stripes, GMC Sierra stripe kits and GMC Sierra vinyl graphics and we'll get those top-quality vinyl stripes for your GMC Sierra pickup shipped straight to your door. You'll soon be driving the coolest looking GMC Sierra pickup truck around!