Chevy Silverado - Avery Dry Install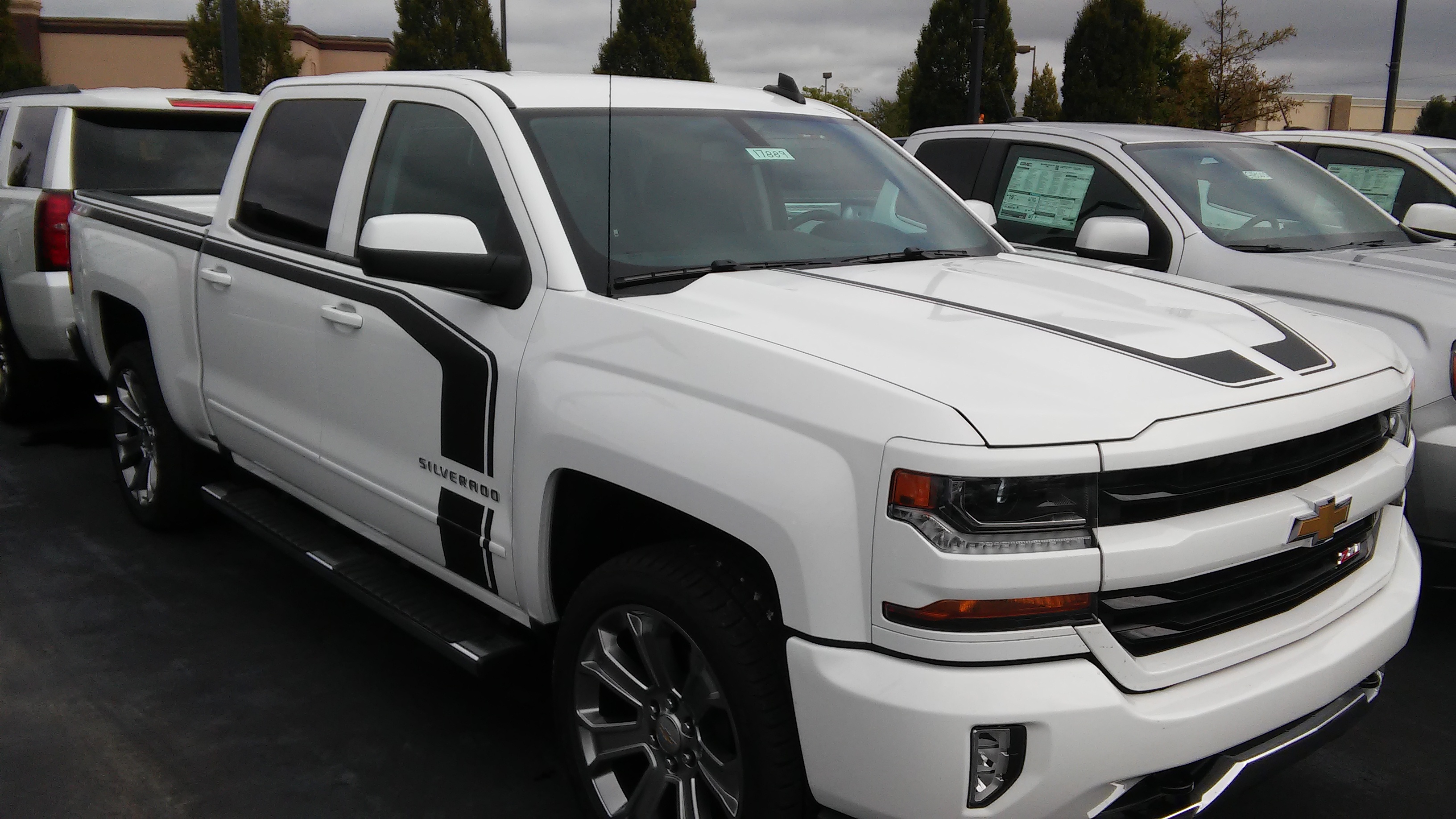 Easy! If you are lucky enough to own a Chevy Silverado and you want to give it a Chevy Silverado racing and Rally stripes upgrade, then just take a look at this stunning range of top quality 2014 2015 2016 2017 2018 Chevy Silverado side stripe kits, Chevy Silverado 1500 racing stripes and Chevy Silverado 1500 hood stripes and rocker panel stripes that we have for you here at FastCarDecals.com. all Us 812-725-1410
Originally designed to be a direct competitor for the Ford F150, and the strong, muscular lines of the have Silverado been gracing the road since 1960's. The Silverado has gone through a lot of design changes since then, but the current, generation Silverado is as cool looking amazing as all its predecessors have, but any Silverado can still be upgraded with our best quality Chevy Silverado OEM style racing stripes and decals kits!
FastCarDecals.com are the number one premium online supplier of high quality Chevy Silverado stripe kits and Silverado vinyl decals. We have a collection of the very best Chevrolet Silverado side vinyl stripes and graphics kits that are guaranteed to set your Silverado apart from all the rest.
Manufactured from the very highest quality automotive grade vinyl, our Chevy Silverado racing stripes are easy to install, guaranteed to last, and guaranteed to impress! Whether you go for the striking appearance of our Silverado Duel Racing Stripe Vinyl Graphics kit, the cool but subtle looks of the Chevy Silverado Shadow Side Stripes Rocker Spikes Vinyl Graphic Decals, or the classic muscle truck style of the Silverado Graphics hood spikes Kit, you will be utterly amazed by the high quality and the ease of installation when you buy your Chevy Silverado stripe kits from FastCarDecals.com.
We take as much pride in the manufacture of our Silverado vinyl stripe kits and vinyl decals as we know that you do in your Chevy Silverado. We are a family owned business that has been manufacturing and distributing the highest quality Chevy Silverado racing stripes and Chevy Silverado bedside vinyl graphics for more than twenty-five years. Producing the best racing stripes and vinyl decals for the Chevy Silverado is as important to us today as was when we first started.
We manufacture our Chevy Silverado racing stripes and Chevy truck custom vinyl graphics from the very best quality vinyl. All our Chevy Silverado vinyl decals kits are made from automotive grade 3M or high-performance Avery Supreme Wrap vinyl. You will never find any low-grade sign quality vinyl on any of our Silverado vinyl stripes kits here at FastCarDecals.com, because we are motor enthusiasts too, and we know that you don't want cheap looking vinyl racing stripes on your Chevy Silverado!
Our Silverado OEM style vinyl racing stripe kits for the Silverado are the same high quality that you would demand from a main Chevrolet dealership or a professional vinyl stripes installer, but at FastCarDecals.com, you pay a fraction of the price for your best-quality Chevy Silverado vinyl racing stripes or Chevy Silverado vinyl decal graphics that you would have to pay at your local Chevy dealership.

Our Chevy Silverado stripe and decal kits are precision cut to ensure a perfect installation every time. We use the very latest, precision vinyl cutting techniques to ensure that our Chevy Silverado vinyl graphics and Chevy Silverado racing stripes will complement the sleek lines of your Chevrolet Silverado pickup perfectly, with the absolute minimum of trimming.
Don't settle for cheap, low quality vinyl stripes for your Silverado. Get the very best Chevy Silverado stripe kits from the premier supplier of racing stripes and vinyl decals! Full length hood stripe kits, rally stripes graphics, or Factory OEM style rally racing stripes, Your Chevy Silverado deserves the absolute best Silverado side racing stripes!
Our Chevy Silverado stripe kits are the best Silverado vinyl graphics kits that money can buy, so give your Silverado a muscle truck makeover with stunning looking Chevy Silverado hood stripes from FastCarDecals.com. Place your order today for your Chevy Silverado racing stripe vinyl graphics kit or Chevy Silverado decal stripe kit and we'll get working on packing and shipping your vinyl decal kit out to you straight away. We get nearly all our orders for our vinyl stripes and decal kits out the door within twenty-four hours, so it won't be long before you are upgrading your Chevy Silverado with the best-looking Chevy Silverado racing stripes and Chevy Silverado vinyl graphics in town!
Take your time and take a good look around our vast collection of top quality vinyl decals and stripe kits for the Chevy Silverado. We have unbeatable prices on the best Silverado 1500 Decals cam sport 2014-2018 Rally Stripe vinyl graphics kits, Silverado side Skid Rocker decals fender stripe graphics, and many, many more. Best quality at the best prices; that's what FastCarDecals.com is all about!
If you can't decide which of our Chevy Silverado stripe kits or Chevy Silverado vinyl graphics will look the best on your Silverado, just give us a call. We have a team of graphic vinyl decals experts standing by who will be pleased to help you choose the best racing stripes for your car. When you buy Chevy Silverado 1500 bed stripe kits from FastCarsDecals.com, you get the best quality vinyl decals and vinyl stripe kits, along with the best customer service. That's a Fast Cars Decals promise!
The Chevy Silverado has always been a car to be reckoned with; it's a true American classic truck, but when you add custom vinyl stripes and decals for the Silverado from FastCarDecals.com, you get a unique classic car that displays your own personal style, and our OEM factory style vinyl stripes kits are guaranteed to last. Every Chevy Silverado vinyl stripe kit and Chevy Silverado vinyl decals kit that you purchase from us is covered by our 5-7 year guarantee. So long as you use your Silverado racing stripes for the purpose they were designed for and you install them in accordance with the instructions, if you report any defective materials within the specified guarantee time-period, we promise to replace those materials for you straight away.
Order your top-quality Chevy Silverado 1500 stripe kits, Chevy Silverado 1500 racing stripes and Chevy Silverado vinyl graphics kits from FastCarDecals.com today and join the thousands and thousands of Chevy Silverado owners have already given their Silverado a custom makeover with the best Silverado 1500 OEM style vinyl stripes and decal kits around. Simply select your preferred style and color from our huge range of factory style vinyl graphics for your Silverado and we'll have your Silverado vinyl stripes kit delivered right to your door on next to no time at all.