Chevy Silverado - 3M Wet Install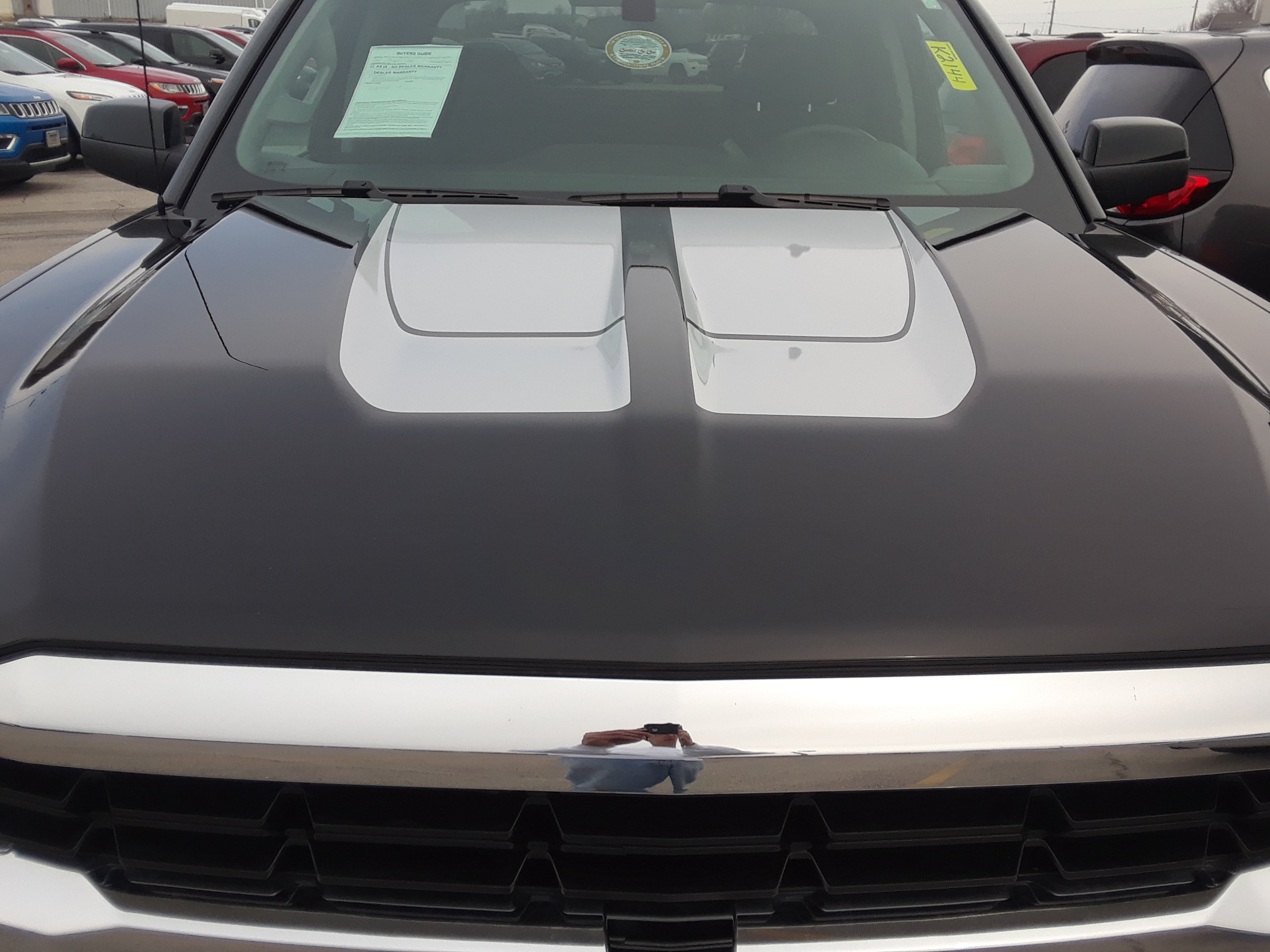 Reviews! FastCarDecals has Chevy Silverado 2009-2014 2015 2016 2017 and 2018 Chevy Silverado Racing Vinyl Graphics Decals and Chevy Silverado hood Stripe and side stripe kits for the Chevy Silverado Truck. Now this All American truck is legendary! We here at Fastcardecals are especially proud to be able to offer you this top-selling range of best quality Chevy Silverado Racing stripes and Chevy Silverado Rally stripes and Silverado rocker panel stripes that have been designed specifically for this true American Truck. Call Us 812-725-1410 if you need any help ordering or questions regarding installation.
Join the ranks of the thousands and thousands of satisfied Chevy Silverado truck owners who have upgraded their Chevy Silverado with easy-to-install Chevy Silverado stripe kits from FastCarDecals.com. Our Chevy Silverado stripe kits for Chevy Silverado are the same high quality that you would expect to receive from a top professional vinyl stripes installer or a Chevrolet dealership. The only difference that you will find with FastCarDecals.com Chevy Silverado vinyl graphics kits is that our Chevy Silverado stripes will cost you a fraction of the price!
If you want your Chevy Silverado pickup to look Great, we have the 2009-2018 Chevy Silverado stripe kits for the Chevy Silverado tyruck, please take a good look around our huge range of Chevy Silverado vinyl decals and stripes. We have Chevy Silverado center stripe racing vinyl graphics, Chevy Silverado body graphics and side vinyl stripe decals, Chevy Silverado racing OEM style racing stripes, and many, many more. Every single one of our Chevy Silverado vinyl stripe kits is precision cut to fit and manufactured to the very highest quality standards.
All our Chevy Silverado pickup side stripes and vinyl decals are manufactured from the highest quality vinyl and they are precision cut using the very latest vinyl stripes cutting technology. When you buy a Chevy Silverado vinyl racing stripes kit or vinyl decals for your Chevy Silverado, we want you to have a stress-free, easy-fit, installation, so we take every care to make sure that your Chevy Silverado stripes can be installed, straight out of the box, with the absolute minimum of trimming.
FastCarDecals.com have been supplying top quality Chevy Silverado bed side stripe kits and Chevy Silverado racing stripes for more than twenty-five years. We are now one of the largest online suppliers of Chevy Silverado racing stripe kits and vinyl decals for the Chevy Silverado. We have achieved our phenomenal growth by only supplying the best quality Chevy Silverado bedside stripes that money can buy and providing a level of customer service that is second to none.
Don't settle for cheap imitations. If you do, you will soon have faded and peeling vinyl stripes ruining the cool, strong looks of your Chevy Silverado. Here at FastCarDecals.com, we only ever use the very best quality 3M or Avery Supreme Wrap high performance, automotive grade vinyl so that you can be sure that you will get a top quality, professional looking finish that is guaranteed to stay looking amazing for many years to come.
FastCarsDecals.com is 100% committed to quality. When you buy Chevy Silverado vinyl graphics from us you can buy with total confidence, because all our Chevy Silverado vinyl stripes, decals and pinstripes are covered by our 5-7 year guarantee. So long as you install your Silverado rally stripes on the model of Chevy Silverado that the decals were designed for and you report any defective materials within the specified guarantee time-period, we will replace any defective materials immediately.
Our Chevy Silverado OEM style Chevy Silverado stripe kits are the perfect upgrade for a Cool Looking Chevy Silverado. They are guaranteed to set your Chevy Silverado truck apart from the rest. It's the easiest, least expensive and the best way to give your Chevy Silverado an instant custom makeover. Order your Chevy Silverado racing stripes today and the guys in our warehouse to will get to work on packing and shipping your order straight away. We get most of our Chevy Silverado stripe kits packed and on their way to customers within just twenty hours of our receiving the order. So, it won't be long before you will be cruising around town in your newly upgraded Chevy Silverado with brand new racing and rally stripes!
Don't delay! Order your best quality, easy-fit Chevy Silverado stripe kit today and we'll have your stunning looking Chevy Silverado racing stripes shipped out to you just as fast as we can. Simply select your preferred style of Chevy Silverado vinyl racing stripes or decals, then choose from the huge range of striking colors, and place your order. It's as simple as that! Call Us 812-725-1410
The Chevy Silverado is Chevrolet's Classic Truck that is a statement of style, so take that style to the max with the best-looking Chevy Silverado stripe kits on the market. The stunning designs of our Vinyl racing and rally stripes kits for Chevy Silverado are bound to make heads turn.
If you need any help or advice choosing the best Chevy Silverado racing stripes for your Silverado truck, simply get in touch. One of our highly experienced customer service representatives will be pleased to help you. It's all part of the A1 service that you always get at FastCarsDecals.com.